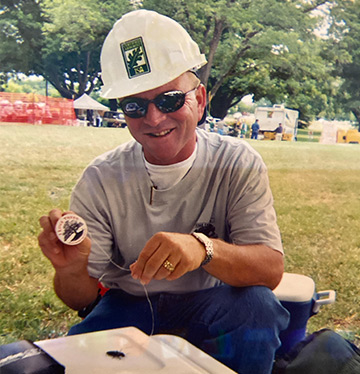 Servicing the metroplex area and providing the best tree care for you, always going out on a limb.
My name is Jeff Gabbert, owner of Bob's Tree Service. I have always had a love for the great outdoors, wildlife, and a passion for all trees wide-ranging. Many people often mistake me for my late father, Bob Gabbert, who was the founder of Bob's Tree Service back in the early 70's. It is all thanks to him for teaching me the basics of tree trimming, removal, overall fundamentals of the business, and instilling the knowledge of how important it is to maintain the health of our trees for the betterment of our environment and aesthetic of our establishments.
Although I didn't lay the foundation in the 70's, I have had the privilege of making it a full-time career for myself and my family since the early 90's and I couldn't imagine doing anything else with my time.
Since being in business for over 30 years, my family has grown and continues to grow today. Marrying my wife, Kathy, in 1982, the 10 years that followed we welcomed 3 beautiful daughters; two of which help run the business today. My wife and I are also proud grandparents to 2 grandsons and 1 granddaughter, with another grandson on the way. God has truly blessed myself, my family, and our small family business in unimaginable ways.
Over the years, I have attended many tree conferences, becoming certified in Texas Oak wilt, a certified TDA Applicator, certified ISA Arborist, and continue to look for any opportunity to expand my knowledge in tree care today to better serve our metroplex and its residents.
Currently, Bob's Tree Service prides itself on quality provision, exceptional customer service, and customer retention. It has been truly remarkable to get to know so many clients over the years that have quickly turned into family themselves. Getting to know our clientele face to face has come with an additional element of pride. Owning this business, contributing to the economy, and providing jobs for our community has been and continues to be a fulfilling way to earn a living and I thank you for continuously supporting our small business during these extraordinary times.
Jeff Gabbert, Owner of Bob's Tree Service
Certified Arborist #TX-3254A
Texas Oak Wilt #TOWIS-0077
Texas Commercial Applicator #0256487